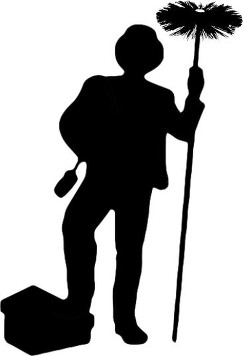 Frequently Asked Questions
How often does my chimney need to be cleaned?
The fire service recommend that, in normal use, chimneys should be swept as follows, unless your Insurance company or stove manufacturer declares otherwise:
Chimneys with solid fuel appliances: Smokeless fuels at least once a year / Domestic bituminous coal at least twice a year / Wood burning every three months when in use.
Chimneys with gas appliances: once a year and should be checked by a Gas Safe technician.
Chimneys with oil appliances once a year and should be checked by an OFTEC technician.
I've just lit my fire and it is smoking – does it need to be cleaned?
If it has been used but not been swept within the past 12 months, for safety it should be swept as soon as possible. If it has not been used since it was last swept, and the problem of birds nesting can be ruled out (if there is a cage or cowl on the chimney), it could be due to the cold or weather conditions. Please call us and we may be able to give advice on the appropriate action to be taken.
How much will it cost?
Prices are based on the location and number of chimneys to be swept. We are happy to provide a fixed quote in advance 'subject to there being no access difficulties, nests or blockages'.
How long does it take?
It usually takes approximately half an hour to sweep each chimney. Occasionally this may take a little longer. Blockages (e.g. a bird's nest) take more time to clear because of the amount of debris that has to be removed. Where we know, or our customer suspects, there is a blockage we try to schedule this at the end of our working day to ensure there is time to do the work in full and any potential delay does not inconvenience other customers.
What happens if I cant keep the appointment?
If you need to change or cancel your appointment we'd really appreciate you giving us as much notice as possible so we have a chance to reallocate your appointment to someone else.If you are unable to give us less than 24 hours' notice or we do reserve the right to charge a cancellation fee of up to 100% of the quoted fee.
Why don't you give me a specific time for my appointment?
When you book a visit, we give you an arrival time slot of one hour. As much as would love to give you a precise time sometimes traffic congestion or unexpected challenges at a previous appointment can disrupt our schedule. If we are going to arrive outside our scheduled time (earlier or later) we will always ring you to let you know and check whether it is still convenient.